August/September 2017
I've been wearing my midwife hat for the last couple of months, caring for the ante-natal and post-natal patients- my beautiful alpacas who have produced seven new cria (four females and three males).
Six of the births were straightforward, but the last baby to arrive was very small and it was touch and go for a while. 'Tiny Tim' was finding it hard to get up and feed, so he was given artificial colostrum which saved his life. He may be small, but he's full of life and mischief and provides us with plenty of amusement as we tend to his needs.
However, the summer has been bitter sweet, as we received unwelcome news that some of the herd had been infected with bovine TB, transmitted from the local wildlife. The alpacas have had to undergo blood tests every 90 days, and the last batch of tests revealed that two males and three females were positive and so they had to be culled.
I had a big decision on my hands: would I try to save the three crias whose mothers were affected by this dreadful disease? Of course, I decided to hand-rear all three babies who are just a few weeks old.
They have had to adjust to their new, two-legged mother feeding them with strange-tasting milk from a bottle, but after some initial problems with the concept they are now doing well. My little orphans have bonded with each other and now do absolutely everything together.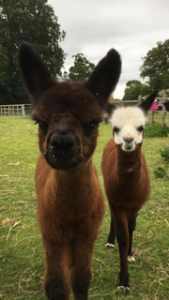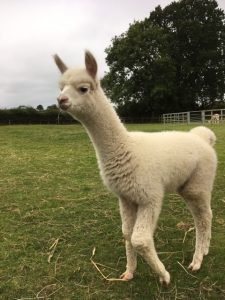 Three very friendly babies looking for their adopted Mum!
Sadly, we have lost a total of seven alpacas since the beginning of the year, and testing will continue until all the animals are clear. The next test will be carried out in the middle of October and we can only hope for a better result.
Fortunately, the alpacas' fleeces are not affected and business continues as normal.
I've just sent another batch of fleeces to the East Anglian mill in Norfolk to be spun into the beautiful, luxurious yarn that alpacas are so well known for. And because I've lost some of my own herd, I've sourced some wonderful fleeces from France, from people I know very well who have been breeding alpacas for a long time. Thanks to their years of experience and the introduction of top genetics into their herd, they produce top quality fleeces with a very soft handle.
While we have been dealing with the TB challenge, everything has been running smoothly at the shop, and we've found needle felting a very popular activity with our customers. We've started to sell wonderful colourful tops, together with needle felting needles and sponges. We also have an appealing needle felted alpaca kit which is unique to Coco Alpacas.
We will be running two needle felting workshops before Christmas, the first one at the end of September and the other at the beginning of December. All details will be on the events page of this website.
We are also running a crochet workshop on 10th September and are planning a Nuno felting workshop for October (details to be confirmed later). Please get in touch if you are interested in coming to these events- you will receive a very warm welcome.
Dates for the Diary
Sunday 10th Sept -Crochet workshop at the shop – 1pm – 4pm
Thursday 14th Sept – Ludlow Farmers Market – 9am – 2pm
Sunday 24th Sept – Needle Felted shaped Objects at the shop –  1pm – 4pm
Details of the workshops are under Events on the website.
Best wishes,
Jane