August 2015
Surprise!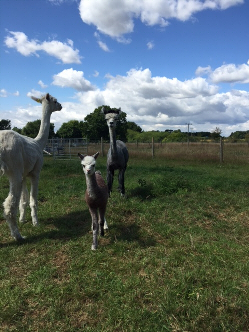 What a lovely surprise I had on July 14th, when a beautiful grey cria (baby alpaca) arrived safe and sound, and snuggled up to her proud mum, Keira.
I knew a baby was on the way, but I had no idea at all of the date. Keira was running with a stud male near Kidderminster in Worcestershire last year, and was pregnant when I bought her in October.
Our new arrival is quite a rarity; she is a stunning shade of grey, and her fleece is looking good at just a few weeks of age. She is a very welcome addition to the herd.
I've been so lucky with all my alpaca births so far: my females have given birth naturally without any complications, and the crias have all been good feeders. Alpacas are pregnant for eleven and half months so I imagine its quite a relief for them to give birth! Keira will feed her cria for six months and then she will be weaned.
Alpacas are born outside and if there are no complications it happens very quickly, often within half an hour. They can stay outside afterwards and don't need to come into the shed unless the weather gets very cold and wet. Crias are normally born in the morning or early afternoon as this enables them to be standing and feeding and to dry off before the night, when the temperature drops. This is important as alpacas originate from the Andes in South America where the temperatures can fluctuate by 40 degrees in a day, being extremely cold at night.Today persistent inclement weather in the Andes can still be a problem for alpacas as many farmers are poor and do not have enough fodder stored to feed their herds for extended periods. I've heard that this year has been a difficult one. Western engineers are currently working in Peru, introducing the idea of portable alpaca shelters and training the farmers in how to use them.
Still on the subject of breeding, I've just said a fond farewell to Felix my two year old white male, a very good looking alpaca with a lovely temperament and an excellent fleece.
He has just gone to start a career as a stud male at Toft Alpacas in Warwickshire, one of the leading alpaca breeders in the UK. I dropped him off there on Friday July 24th and was sorry to see him go – he's been a delight.
I know Felix will be well looked after at Toft Alpacas though. They are pedigree breeders of Huacaya and Suri alpacas in all colours, and also run workshops and run advanced training for anyone interested in breeding alpacas.
You can find out more about them at http://www.toft-alpacas.co.uk/Home.aspx
And now for my dates: I will be at the Burwarton Show near Bridgnorth, Shropshire on Thursday 6th August http://www.burwartonshow.co.uk/
You can also catch me at:-
Ludlow Farmers market on Thursday August 13th from 9am – 2pm
Ludlow Green Festival on Sunday 30th August. http://greenfestival.co.uk/
Enjoy your August!
Jane