May 2016
April was an exciting and eventful month, concluding with a special event at the Coco Alpacas shop on April 30 to celebrate traditional British wool shops.
The event, Yarn Shop Day, was part of a national awareness event to promote brick-and-mortar wool shops. In a real shop (instead of a virtual one) customers can see and feel the quality of different knitting yarns and receive free-of-charge, personal advice on their creative projects.
Everyone seemed to have a great time and it was a very effective way of getting our message across.
We offered free knitting patterns and there was expert advice on tap from the well-known author, designer and knitting expert Val Pierce.
Val, who comes from Shrewsbury, stayed in the shop all morning, providing free tips and advice on everyone's projects. She brought some of her hand-knitted toys and baby clothes and signed some of her books which I stock in the shop.
It was a brilliant opportunity for everyone to benefit from her expertise.
We also gave away goody bags which included a hand crocheted bracelet made with Coco Alpacas wool and a 10% gift voucher for our yarn.
During the day I was presented with a uniquely designed headband, created by Val with Coco Alpacas wool. This high-quality fibre is spun from luxuriously soft fleeces taken from my own herd of pedigree alpacas.
The yarns we had selected for discount were very popular and we still have some left – Juniper Moon Moonshine DK alpaca/wool/silk blend, Juniper Moon Chunky alpaca/wool/silk, Blacker Yarns Lyonnesse wool/linen and Blacker Yarns Elegance wool/alpaca.
We also have some free knitting patterns for brightly coloured monkey and elephant toys and also for the headband, which we are giving to customers on a first come, first served basis. Pop into the shop ASAP if you're interested in either the yarns or the patterns.
Mum's the word!
I'm pleased to report that all of our alpacas are well – and we're now preparing for this year's cria.  The first one is due at the end of May and the rest will arrive throughout June.
I've just moved the girls to their summer pasture, a lovely field which has rested all winter and is now resplendent with luscious grass.
I've also taken two of the boys, Wizard and Derby, to Acton Scott (the historic Victorian working farm near Church Stretton) last week. They will be on exhibition there until October, and I'm hoping people will see them and decide to visit our shop at 9 High Street, Church Stretton.
This coming Saturday sees the Church Stretton Arts Festival taking place, with Music Fest staged in the town. Two more of our animals, Felix and Finn will be on show. They will be in the Square opposite the Coco Alpacas shop from 10am until 4pm and are sure to be a hit with the public who just love alpacas!
Dates for the diary
Sat May 7th – Music Fest – Alpacas in the Square (shop open 10am – 5pm)
Thurs May 12th – Spinning Workshop with Fiona Nisbet (10.30 am – 3pm)
Sun/Mon 29/30th –We'll have a stand at Spring Food & Craft Fayre in Weston Park, Shifnal, TF11 8LE.
What a fab month we have ahead. I hope to bump into you somewhere.
All the best,
Jane.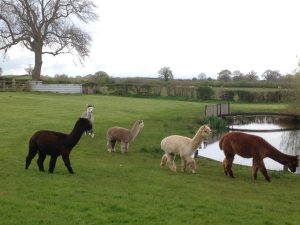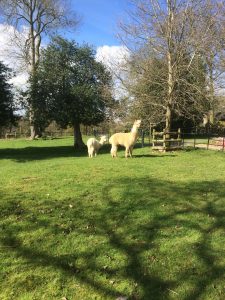 Girls exploring their new field.                                Wizard & Derby at Acton Scott