October 2016
There were lots of busy fingers diligently working in the Coco Alpacas shop this Tuesday (October 11th) when Fiona Nisbet lead a tapestry weaving workshop which was fully booked.
Tapestry weaving is quite artistic and Fiona  showed everyone how to create woven landscapes using different types of wool for different textures. The technique is quite different from normal weaving as you use your fingers instead of a shuttle.
If you missed out on this workshop, why not "sock it to 'em" instead and join in our sock workshop which is aimed at beginners- it takes place on Friday October 21st and will be led by Louise Sharman. Please get in touch if you're interested; you will be made to feel very welcome.
On the subject of socks, I have some fantastic new socks yarns by Schoppel, a German company who do lovely colourful yarns, so why not create some funky socks? They are great fun to knit and perfect for Christmas presents. If you don't have time to knit the socks yourself then some Schoppel yarn would be a great gift for any keen knitter.
An alternative sock yarn is Opal which is always very popular. We have a new range in for this season called Schafpate V111. – Lovely Colourways.
We also have some colourful 100% superwash merino yarn called Edition 3 & 6, which is great for hats, scarves, shawls, snoods, mittens and gloves.
If you have any babies to knit for, then why not try the new yew yarn from Rooster, Almerino Aran – it's a beautiful mixture of baby alpaca & merino wools. It's wonderfully soft and perfect when you want to spoil yourself or a special little someone. This yarn is supported by Search Press crochet books – Cute & Easy Crochet and Cute and Easy Crochet Baby Clothes (We also have Rooster Book 1 in stock).
Talking about yarns, I mustn't forget to mention this year's Coco Alpacas yarn. As well as a stunning white there will be fawn, brown, black and grey in our palette of rich, natural shades.
Animal news
I've just picked up Wizard & Derby from the Acton Scott historic working farm where they have been on show all summer captivating the public. I've been asked to send them again next year so that they can win over even more hearts: they really are the stars of the show wherever they go. Now they are back home they will be moved to their winter field along with Manot, Salvador and Finn, three boys I have had here all summer.
All the alpacas will be given their annual injection of vitamins and will have their feet trimmed and a general health check in the next couple of weeks. And I do hope to get to the bottom of Sprite's mysterious swollen abdomen: is she pregnant or isn't she? That is the million-dollar question. I think it's time to book her a scan before she ends up on the Jeremy Kyle show!
Very best Wishes,
Jane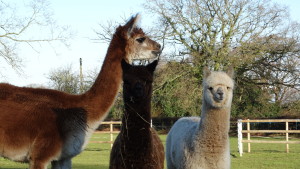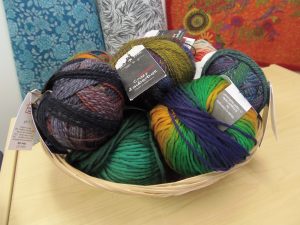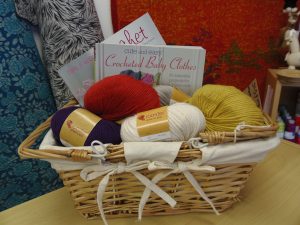 Sprite with Gulliver & Gus                                              Schoppel Sock Yarn                                      Rooster Almerino Aran