March – August 2019
I can't believe how quickly the months have flown by – before we know it the summer has gone and we are into Autumn!  Its been a fairly quiet few months starting off with the National Alpaca show in Telford at the end of March where we had a trade stand.There were over 600 hundred alpacas at the show all waiting to be judged by judges from the UK and abroad. The overall Huacaya champion came from Northern Ireland and the Suri Champion from Cambridgeshire. We had a small stand there selling our hand knitted accessories, yarn and socks. It's always good to go and catch up with everyone in the alpaca world who you only meet once a year at the show.
We've carried on doing local farmers markets in Shrewsbury and Ludlow throughout the spring and early summer. In August we had a trade stand at Burwarton show which is always successful and then at Tenbury Wells Country show which was the first time for us and it was a lovely day. We have been so lucky with the weather this summer which makes all the difference when you have a tradestand!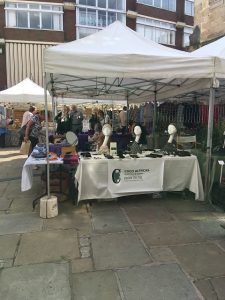 Shrewsbury Market
Colin Ottery came up from Devon to shear the alpacas at the beginning of July and we have got some lovely fleeces to be processed – some of which have already been sent to the mill. So rewarding to send the fleeces off to be spun into beautiful yarn after waiting a year for the fleece to grow and they are all unique when they come off the animal – colour, fineness, crimp, density and length.
We had some sad news though after shearing, when we lost a cria who was just 10 days old! She was born in the middle of July and everything went well with the birth and she seemed to be feeding well but she got attacked by flies in her ears and it just got worse and worse – she had antibiotics and cream to stop the flies but unfortunately something took hold and we were unable to save her – very sad. Unfortunately with baby alpacas they are very vunerable in the first few weeks of their life and she may not have had enough colustrum at the beginning to boost her immune system – its something one will never know.  It is the first cria we have lost in the 12 years of breeding but even so its not what you want.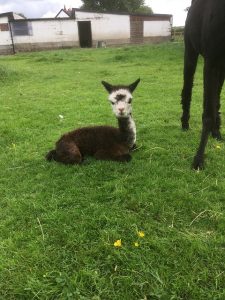 New born cria
On a brighter note we took three alpacas to our local Cancer Research tea party which is an annual event held in All Stretton. Coco, Josie and James were the stars of the afternoon and were very well behaved being their first time out. Everyone loves alpacas and are full of questions about them – the first one being 'Do they Spit?'!! They do of course but mainly between themselves and rarely aimed at humans unless we really do annoy them!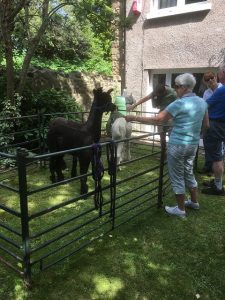 Cancer Research Tea Party
At the end of August I went down to London to a textile art exhibition of Peru called 'Weavers of the Clouds' which was held at the Fashion and Textile Museum near London Bridge. It was really interesting starting with the earliest textiles that they have found in the Inca period, how the local people spin, dye and weave alpaca which is then woven  into beautiful textiles that we see today. Some traditional weaving designs are geometric and they also have bird, animal, plant symbols that all mean something. The hanging that was fascinating was  of different lengths of dyed wool that had been knotted in different places which is called Quipu  which is a knot method used by the Incas (1430 – 1530 ad) to keep records and communicate information.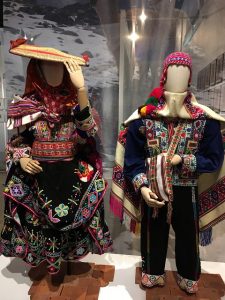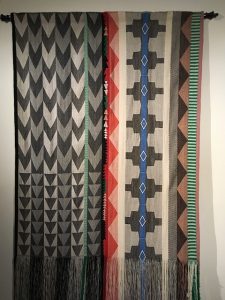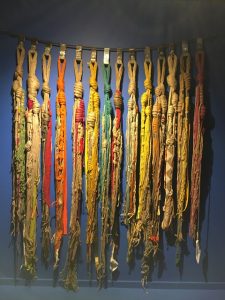 Traditional Costume                                                     Geometric designs                                         Quipu