February 2015
Hi.  I'm Jane Potts and I'd like to introduce my new blog about life with my herd of gorgeous alpacas!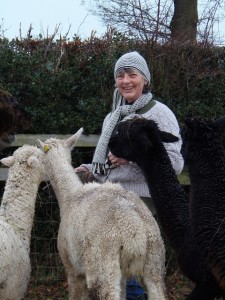 I used to be a farm secretary until I fell in love with this cuter cousin of the llama at the Royal Show in Warwickshire back in 2007.
Just one look from fabulous Phoebe and her little friend Eliza was enough to convince me my future lay with these fleecy little bundles of fun.
They are the prettiest, fluffiest members of the camel family and are usually sweet tempered and easy to handle.  Phoebe and Eliza were pregnant when I bought them, and moved with me to France in 2008, where I bought more female alpacas, increasing my herd to 17.
Beautiful alpaca wool products
It wasn't long before I started producing luxurious hand knitted products from their fleece.  Known as the "fibre of the gods", alpaca wool is soft and durable, as fine as cashmere, and almost as strong as silk.
The first female cria (baby alpaca) born in France was called Coco, and that's where the name Coco Alpacas came from.  It also seemed appropriate because French fashion designer Coco Chanel was an iconic figure, and alpaca wool is highly prized in the fashion industry.
Coco (the alpaca) had a hole in her heart when she was born, but thanks to my vet in France she survived and thrived after a course of injections in the first week of her life.
I came back from France in October 2013, bringing the herd with me, and settled in Church Stretton because I like the hills, and Shropshire is a convenient location for me in relation to where my family live.
So what else can I tell you about Coco Alpacas?
We produce a great range of hand knitted and hand woven hats, scarves, shawls, snoods, throws and mittens, and we also sell the yarn for knitting.  If you've never knitted with alpaca wool before you're in for a treat as it's so easy to work with, and the end product is beautiful.
We sell our alpaca products at the Farmers' Market in Ludlow once a month and some of our creations can also be purchased from the Castle Gallery shop in Ludlow.
The next farmers' market in Ludlow is on Thursday 12th February – I hope to see you there between 9am – 2pm.  In the meantime, stay warm and if you want to wrap up in a luxurious hat or
scarf and can't get to Ludlow to buy one, please visit our online shop!
I've had some help launching my Coco Alpacas blog from Shropshire-based journalist and blogger Lyn Alderson. Click here to read Lyn's blog and information on her copywriting and blogging services http://lacopywriting.co.uk/category/farmhouse-blog/