March 2015
This month I've got good news for children of all ages, from toddlers right up to young at heart 80 year olds: I have unveiled some beautiful and unique alpaca toys, made from our own alpaca wool.
So many people love the cute appearance of alpacas, and enjoy their soft-textured wool, it made sense to produce these charming cuddlies modelled on my own herd here at Leebotwood.
There are two types of toy alpacas now available from Coco Alpacas- a crocheted version and a needle-felted alternative. Both have been produced by 'arty experts'
using our natural coloured yarn which comes in five shades.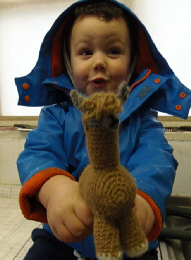 The talented Jenny Bartl, who lives in Church Stretton, has designed and made the crocheted alpacas. Jenny is a great designer and wonderful at hand-knitting and crochet. She is an important part of my team and produces lots of gorgeous hand-knitted hats, scarves, shawls and mittens, using our "fibre of the gods" (an apt description of alpaca wool which is soft, luxurious and strong).
Jenny modelled the toys on individual animals in my herd. Keira is a grey alpaca with a white face, Derby is fawn and white, Wizard is pure white, Arthur is a mixture
of two shades of brown, and Freddie is a dark fawn with lighter coloured ears.
The toys are very tactile and squashy, appealing to the inner child in all of us. Find me on Ludlow Market (Sunday March 22nd, from 10am) and have a feel for yourself!
The needle-felted alpacas are made quite differently: unspun wool fibres are deftly sculpted into the alpaca shapes using special felting needles. It's amazing to see how a clever needle felting sculptor can transform a lustrous pile of fluff into a charismatic, cuddly character.
Jo Catling, who comes from Leintwardine, has made these for me and has done a fantastic job, adding another great product to our collection.
Toy alpacas are quite hard to find, so I'm hoping the novelty factor will make these lovely cuddlies a hit for birthday and Christmas presents.
On the subject of our alpaca wool, I've decided to enter our knitting yarn in a competition at the British Alpaca National Show http://basnationalshow.co.uk/ which takes place in Telford on March 7th – 8th. I'm hoping (and quietly confident) that our yarn will impress the judges at this prestigious show.
The show makes a good day out for families, entrance is very reasonable at £2 per adult (£5 per family) and the proceeds go the the Severn Hospice in Shrewsbury. What's not to like?