April 2015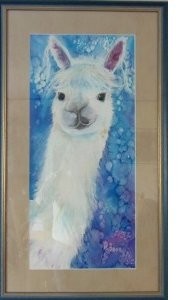 I love all of my alpacas, and I'm always intrigued to get to know each one, as they all have their own individual personalities.
Snowdrop
is a pure white female who used to be the dominant female in my herd, although she now lives in Italy after selling her a couple of years ago.
She was a very independent alpaca and a wonderful mum producing lots of little cria for me.
I will never forget Sonowdrop's quizzical expression, as she has now been immortalized for me in a fantastic painting which is hanging on my wall.  Right next to Snowdrop's portrait is another painting, and this one is Derby, my fawn and white 'Alpaca with Attituude'.  Derby has the most amazing hairstyle which suits his personality down to the ground.  He was quite difficult to halter train, but I perservered, and now he's as good as gold.
Both of these lovely pictures were painted by a neighbour when I was living in Southern France near the Pyrenees.  Gill Masters is an artist who had moved from Kiddermisnter out to France, and at one of my open days she mentioned that she loved painting farm animals. I jumped at the chance to have some fantastic artwork on my wall featuring two of my favourites.
I was so pleased with the results.  Gill is a very talented artist and captured Sonwdrop's searching look and Derby's crazy hairstyle perfectly!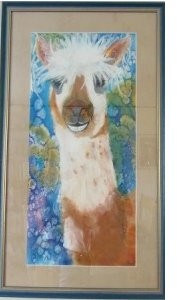 (If you'd like to see more of Gill's paintings, visit www.artgallery.co.uk/artist/gillmasters2)
It's great to have a gift for painting like Gill, but there lots of other ways to be creative too.  I like to see what people can create with my alpaca wool, for example.  And I thought it would be a great idea to feature a knitting pattern ( or something similar) on my blog every month.  This will be starting next month, so watch this space!
If you want to chat to me about the alpaca wool, any of our products, or even the alpacas themselves feel free to visit me at Ludlow market stall, on any of these dates:
Thursday 2nd April
Thursday 16th April
I hope to see you there!