May 2015
Family planning at the Alpaca Futurity Show!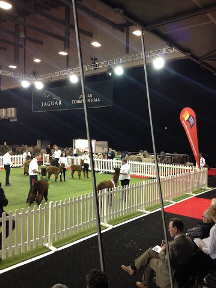 As an alpaca breeder, the sector's shows are of great interest to me, and I love to admire the top quality stud animals available and do some "family planning" for my breeding females.
This year I went to the Alpaca Futurity show in Coventry (which champions the best of British alpaca breeding) along with a couple of other Shropshire-based alpaca breeders.
While we were there we had a meeting with one of the UK's top breeders, Toft Alpacas.
One of their stud males, Toft Timogen (pictured at the front), was best in show for browns and I think he would be a wonderful choice as the sire for next year's baby alpacas (cria).
I am now waiting to hear how much it will cost to use this handsome stud after his success in the show, so watch this space!
I have six females, so we would hope to get six healthy cria next year after a 11 month gestation period. Usually alpacas have one cria and twins are quite rare. We only have one cria due this year as the other females are having a rest, so next year will be an exciting year when the planned new additions arrive, hopefully full of life and kicking!
The Futurity show this year was combined with the new p-Lush show, an exhibition of textile artists and companies who are designing and selling natural fibres. The show was quite interesting and showcased the British textile making and design industry very well.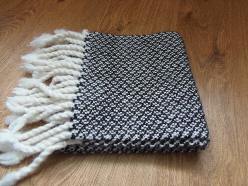 Church Stretton Arts Festival
Moving on to a different type of exhibition, this year Coco Alpacas will be taking part in the Church Stretton Arts Festival. Some of our designs will feature in the festival's Exhibition of Art, Crafts and Photography, which runs between July 28th and August 8th.
Click http://www.strettonfestival.org.uk/exhibition-of-art-crafts-and-photography/to find out more about the arts and crafts exhibition and don't forget to book the date in your diary!
I'm remaining tight-lipped (as they say in the media) about our entries, but there will be a carefully selected mix of hand crocheted, knitted and woven items created from our stunning natural and hand dyed yarns.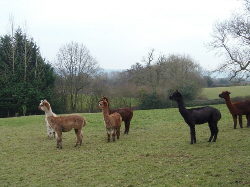 Keeping Alpacas as Pets
If you're seriously interested in alpacas, and want to find out more about keeping them as pets, please get in touch, as some of my herd are for sale. We provide lots of advice and after sales care, and would help you with any teething problems while they are settling in.
If you're more interested with the end products we create – our lovely accessories, throws, and toys, please come along to see us at our Ludlow market stall. We will be there on three Thursdays in May, the 7th, 14th (farmer's market) and the 21st.
I hope to see you there!