October 2015
Shop Opening in Church Stretton!
I have some exciting news to announce this month. Church Stretton is getting its very own Coco Alpacas shop in the High Street – and it will be packed with stylish alpaca knitwear and specialists yarns.
I can't wait to introduce local shoppers and tourists to our fantastic range of accessories, created from the fine fleeces of our loveable alpaca herd.
Along with the wool from our own herd we will be selling vibrantly coloured Alpaca yarn sourced in the UK, natural lamb's wool, Merino (a very fine soft sheep's wool) and Corriedale wool which is great for needle felting as well as knitting. There will also be some excellent yarns combining wool with silk and linen.
As you may know, alpaca wool is described as "the fibre of the gods", because it's as fine and soft as cashmere, and second in strength to silk. It's hypoallergenic and has a non-prickle factor making it ideal for people with sensitive skins. If you're not familiar with its many benefits then please drop in to see us and we will be delighted to tell you more.
The shop will also stock an array of gifts, knitting accessories and craft books, so it will be an Aladdin's cave for creative folk and a great source of Christmas presents.
We hope to open our doors in the first week of November – check this blog next month for the exact date.
What other news do I have?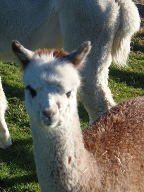 I've picked up our new mum Keira and her now two month old cria whom I've named Heather, along with two more of our females, Selkie and Coco, from the stud farm, Toft Alpacas in Warwickshire. My lovely ladies spent the summer there with some very well-bred males! These studs have very good genetics in terms of fibre statistics, so I'm hoping that in July next year we will have more lovely cria with amazingly soft fleeces and colours.

Baby Heather has grown very fast and has wonderful markings and colour. She's a very pretty girl and she knows it, acting very much like the star of the show!





Dates for October

Ludlow Markets – Farmers Market Thursday 8th October 9am – 2pm

Church Stretton – Craft Market at Scout Hut Thursday 15th October 9am-2pm

Ludlow Markets – Halloween Market Thursday 29th October 9am – 4pm

Jane