June 2016
At the beginning of the month there was Musicfest in Church Stretton – took 2 alpacas, Freddie & Finn who were in the square for most of the day- very popular with people asking lots of questions about them and taking photos. We were in the Shropshire Journal the following week.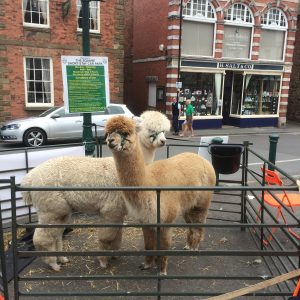 We had a spinning workshop with Fiona Nisbet – very successful – all beginners and ended up with a hand spun hank of wool and one of the ladies bought a spinning wheel – Elizabeth 2 – a beautiful traditional shaped Ashford wheel.
Bank holiday week-end we did a craft fayre at Weston Park near Telford. Very lucky with the weather – alot of people there.
Have contacted Shrewsbury hospital – Lingen Davies cancer unit to see if they want hats knitted or crocheted for cancer patients who are having or have had chemo and have suffered hair loss. They are grateful for any hats so Coco will be the collection point for the hats and then I can take them into the hospital.
So if anyone has any spare wool and a little bit of time to knit a hat all donations will be gratefully received. We have free patterns in the shop if anyone wants a pattern.
June is going to be an exciting month as were are expecting 4 babies (cria) so it's going to be a busy time. All the girls who are pregnant are taking it easy doing alot of eating and lying down! Its good that's its quite cool at the moment as they are getting very heavy fleeces and they keep cool by sitting by cool water buckets that I put out for them. One of them Sprite loves to put her feet in the water and do alot of splashing – some alpacas really like water!
All the alpacas are due to be shorn at the end of June so that will be a busy day
Three Counties Show 17-19th June at Malvern. I'll be taking Heather my grey youngster to the show with 2 of her friends, Georgie and Gina. I'm entering her in the junior halter class – will also be having a small stand there with my wool and products.
Dates for June
17 – 19 June Three Counties Show, Malvern
Enjoy this lovely weather!
Best wishes
Jane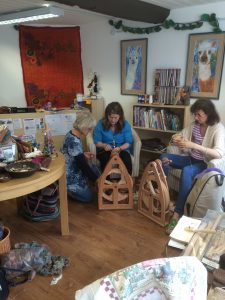 Spinning Workshop with Fiona