December 2015
Coco Alpacas Shop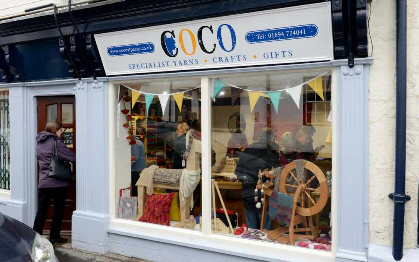 My feet haven't touched the ground since my last blog post.
I've been so busy arranging the stock in my new Coco Alpacas shop, dressing the shop window, meeting members of the public and the press, and of course looking after my beautiful animals!
The opening day was very successful and I had alot of support from Church Stretton folk and further afield too, because many people had read an article in the Shropshire Star about my new enterprise.
Everything just fell into place on the day and the feedback has been overwhelmingly positive: people seem to agree that it's good for the town to have something a bit different, and my little cottage industry seems to have been welcomed with open arms.
Two of my favourite alpacas, Wizard and Derby, were on show in the Square, pretty much directly opposite the shop, and they certainly looked cute in their deep purple halters and pulled in the crowds.Tourists and shoppers were keen to discover what's involved in caring for the herd, and even the moderately heavy rain didn't seem to dampen their spirits as they admired the boys. Wizard and Derby were very good natured and took it all in their stride.
Alot of people asked whether alpacas spit like camels and llamas, and the answer is that they can, very accurately, but they don't usually spit at humans, as long as they are being treated properly. My alpacas are very quiet and well-behaved and a real joy to be with.
Many other people wanted to know how we produce yarn from the alpaca fleeces, and we were able to explain how the process works.
So much has happened in November that I haven't had a lot of time to think about Christmas and now it's fast approaching I will have to put my Father Christmas hat on. I still have quite a few presents left to buy!
If you are seeking great gift ideas then please pop into the shop and take a look at our luxurious alpaca wool socks and hand-knitted hats, scarves and mittens. We also have some colourful felted items including purses, coasters, scarves, bags, rugs and hats.
My alpacas have different coloured fleeces from black, grey and dark brown to fawn, beige and white, and hand-knitted Coco Alpacas accessories are available in all these natural shades. We also stock different quality yarns made from a combination of Merino, Silk, Alpaca, Corriedale, Linen and Cotton all in vibrant shades, knitting accessories, craft books and cute hand-crocheted alpaca toys.
The shop is open 10am to 5pm Monday to Saturday. Please drop in and say Hello!
Thank you for your interest in Coco Alpacas. I'd like to wish you a Merry Christmas and a Happy new Year from myself and the alpacas.
Festive Wishes
Jane