Blog
This month I've got good news for children of all ages, from toddlers right up to young at heart 80 year olds: I have unveiled some beautiful and unique alpaca toys, made from our own alpaca wool.
So many people love the cute appearance of alpacas, and enjoy their soft-textured wool, it made sense to produce these charming cuddlies modelled on my own herd here at Leebotwood. Continue reading →
Hi.  I'm Jane Potts and I'd like to introduce my new blog about life with my herd of gorgeous alpacas!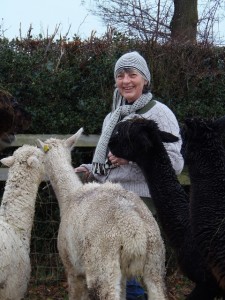 I used to be a farm secretary until I fell in love with this cuter cousin of the llama at the Royal Show in Warwickshire back in 2007.
Just one look from fabulous Phoebe and her little friend Eliza was enough to convince me my future lay with these fleecy little bundles of fun.
They are the prettiest, fluffiest members of the camel family and are usually sweet tempered and easy to handle.  Phoebe and Eliza were pregnant when I bought them, and moved with me to France in 2008, where I bought more female alpacas, increasing my herd to 17.
Beautiful alpaca wool products
It wasn't long before I started producing luxurious hand knitted products from their fleece.  Known as the "fibre of the gods", alpaca wool is soft and durable, as fine as cashmere, and almost as strong as silk.
The first female cria (baby alpaca) born in France was called Coco, and that's where the name Coco Alpacas came from.  It also seemed appropriate because French fashion designer Coco Chanel was an iconic figure, and alpaca wool is highly prized in the fashion industry.
Coco (the alpaca) had a hole in her heart when she was born, but thanks to my vet in France she survived and thrived after a course of injections in the first week of her life. Continue reading →