Family planning at the Alpaca Futurity Show!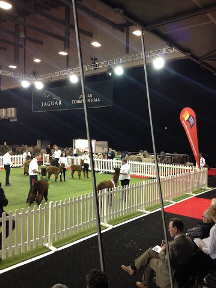 As an alpaca breeder, the sector's shows are of great interest to me, and I love to admire the top quality stud animals available and do some "family planning" for my breeding females.
This year I went to the Alpaca Futurity show in Coventry (which champions the best of British alpaca breeding) along with a couple of other Shropshire-based alpaca breeders.
While we were there we had a meeting with one of the UK's top breeders, Toft Alpacas.
One of their stud males, Toft Timogen (pictured at the front), was best in show for browns and I think he would be a wonderful choice as the sire for next year's baby alpacas (cria).
I am now waiting to hear how much it will cost to use this handsome stud after his success in the show, so watch this space!
I have six females, so we would hope to get six healthy cria next year after a 11 month gestation period. Usually alpacas have one cria and twins are quite rare. We only have one cria due this year as the other females are having a rest, so next year will be an exciting year when the planned new additions arrive, hopefully full of life and kicking! Continue reading →